Inazuma Eleven GO VS Danball Senki W (イナズマイレブンGO vs ダンボール戦機W) is a Level 5 crossover animated movie. It was showed on the December 1st, 2012. It is the first movie for the Danball Senki series and the third for the Inazuma Eleven series.
Known facts
It's shown in the trailer that Yamano Ban and Oozora Hiro will both use the LBX Ikaros, then changes to Odin MK2 and Achilles D9.
The movie takes place after episode 41 of Danball Senki W.
Asta, San and Fran are the main antagonists of the movie. In the trailer, they are seen on top of some sort of tower. Fran then said "the world's coming to its end."
It's now confirmed that Inazuma Eleven and Danball Senki works as a team.
Shinsei Inazuma Japan, a team formed by some Raimon's players, Hakuryuu, Yukimura Hyouga, is going to play against Endou Mamoru's Inazuma Legend Japan.
An army of LBX will attack the stadium where they're playing.
The LBXs do considerable damage to the stadium and other locations. Endou and his team are then seen disappearing, absorbed by a strange purple light.
The members of New Inazuma Japan are safe from the disaster, because Fei Rune appeared along with the caravan to give them a ride, showing that he becomes the extra member of the team as he was not seen playing in the match against Inazuma Legend Japan.
They seem to be able to "erase" the world and return it to its natural state, as trees start to grow in cities while buildings vanish.
Asta has a team, the Destructchers. His goal is to destroy soccer.
San is able to control a thousand LBX at a time. His goal is to erase LBX.
While in her light form, Fran can control LBXs, and while in her dark form she can play soccer.
She also seems to be the leader of the trio.
At the end of the first trailer, it is shown that Shinsei Inazuma Japan and Danball Senki W characters will fight each other. However, later trailers show them cooperating.
Characters
Danball Senki
Inazuma Eleven
Antagonist
Attack functions (Order of appearance)
LBXs/Killer Droid used
LBXs
Killer Droid
Hissatsu/Tactic used
Hissatsu
Tactic
Keshin/Keshin Armed/Mixi Max Used
Keshin/Keshin Armed
Mixi Max
Trailer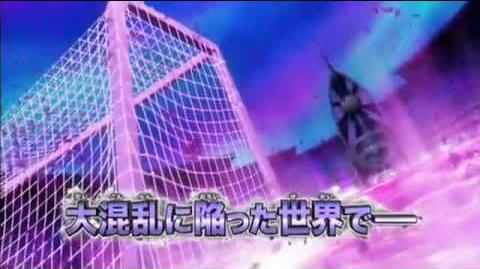 Trivia
In the 25th episode of Danball Senki W, Cobra is watching a soccer match, which is a reference to Inazuma Eleven for the upcoming crossover movie.
Gallery
External links
Community content is available under
CC-BY-SA
unless otherwise noted.